This month I take my woolly hat off to McDonald's for their advert promoting the Signature Collection.
Disclaimer: I absolutely abhor perfume adverts; they come second only to toothpaste adverts in my books. You know the ones, supposedly hidden camera jobs interviewing the 'dentist' about how much they recommend product XYZ for its plaque-obliterating properties. Anyway, I digress…
Ronald McDonald's crew have spoofed your typical perfume advert to showcase the Signature Collection (read: fancy burgers) that hit restaurants at the end of 2017.
The advert, created by London agency Leo Burnett, has everything you could imagine of a perfume advert; billowing curtains, wishy-washy visuals, glamorous actors and a melodramatic sense of longing and overwhelming desire. I don't blame her, the burger looks great.
It is currently being shown on TV and in cinemas located around the 900 restaurants that will be offering the range. Everyone loves burgers right now, and this is clearly a move to try and take on the big Gourmet Burger Kitchens and small Honest Burgers of the world, to make sure they stay relevant in a world of well-groomed facial hair and Instagram sensations.
McDonald's see it through though; it's not just a fancy pants advert, the chain also invested in the packaging design to set the range apart from lesser counterparts (no sad tissue paper here). The promotional boxes have been designed by Debenhams' favourite Julien Macdonald featuring gold-encrusted boxes that wouldn't look out of place in the hands of Marie Antoinette. Us regulars however, get a brown box instead of a white one, and a stripy napkin.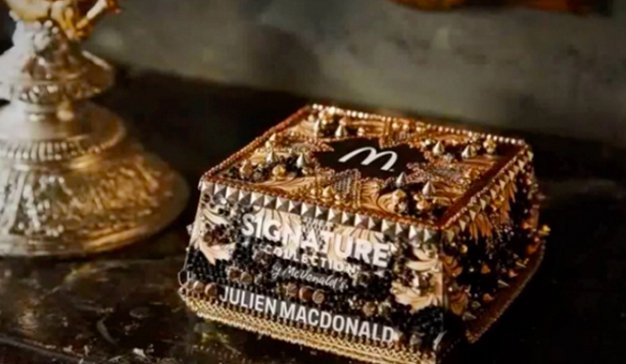 I don't visit the Golden Arches all that often, so I've not tried the dead posh burgers yet (and when I do go, I get distracted by McNuggets). While I can't vouch for the taste, I can say that I love them based on this advert alone.
The strapline of 'luxury in a bun' is inspired, you get the luxury from the spoof advert, and the wit often displayed by the modern day fast food chains comes through thick and fast.
I'd say 'your move Burger King', but let's not forget the incredible stunt following the release of Stephen King's IT in cinemas…watch that joy here.
Images from McDonalds, Luxury Retail and The Sun